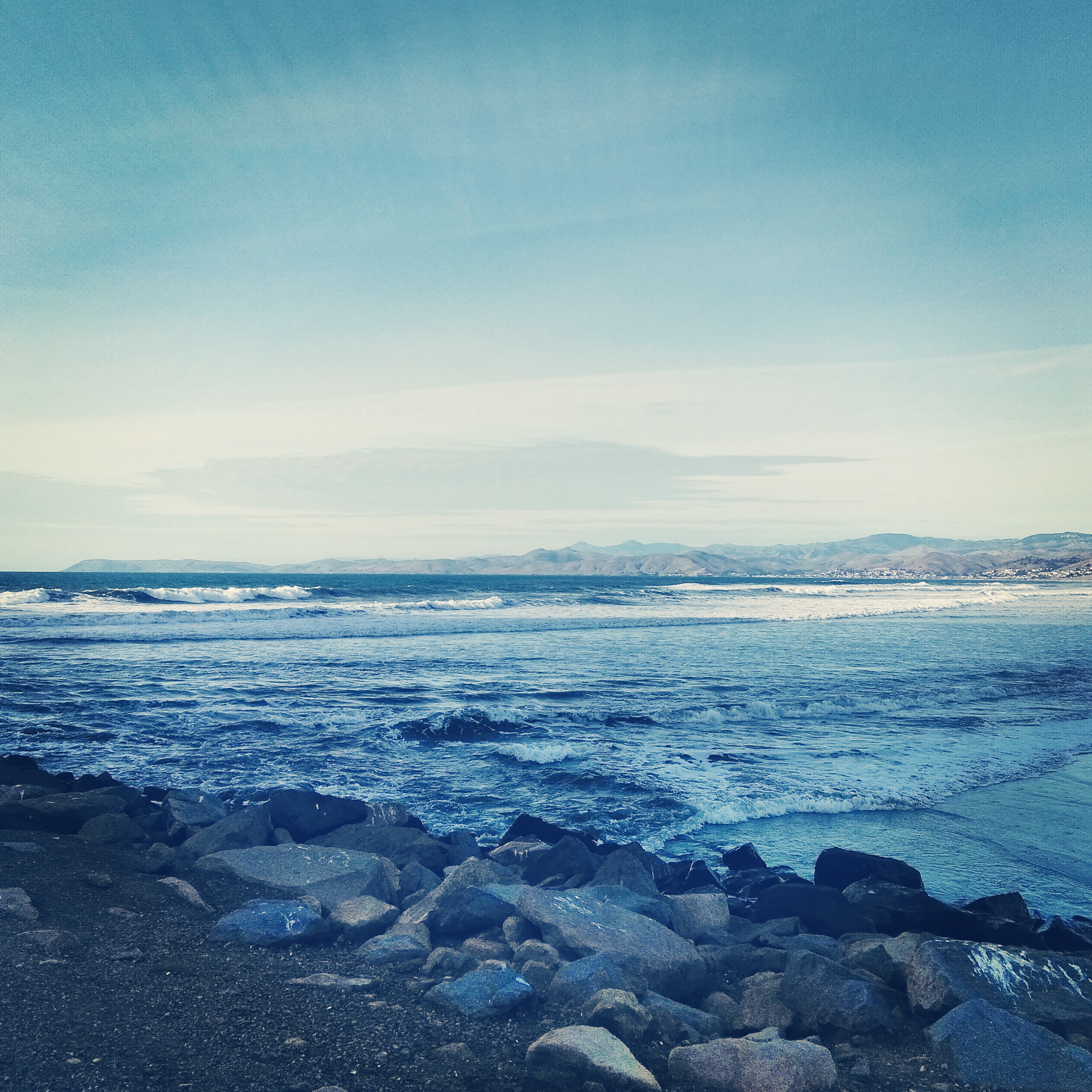 The California Central Coast was amazing. I had forgotten how beautiful and eclectic California is. Which can also be said about the people that live there in. Speaking of which the first person I met upon arriving to the Central Coast was a gentleman by the name of Banjer Dan. He booked me at a place called Last Stage West. Ol Dan is a great banjo player that has an appreciation for fine musicianship. Especially Earl Scruggs and Bela Fleck. He's an interesting character. He literally looks as if he stepped out of a silent film from the old days. He also had an impeccable memory! It was amazing to me! I got to hear  some insane stories in fine detail about him touring in a well known punk band as a banjo playing hippie. It was contrary to everything that punk stood for wich made it totally cool in their eyes, and not to mention you can't help but love the guy! He has a huge personality and an even bigger heart. He was more punk thank punk. I met Tom the owner who struck me as highly intelligent. Definitely a hippie, and I mean that kindly! He dabbled with multiple instruments and cooked up some mean BBQ for his venue.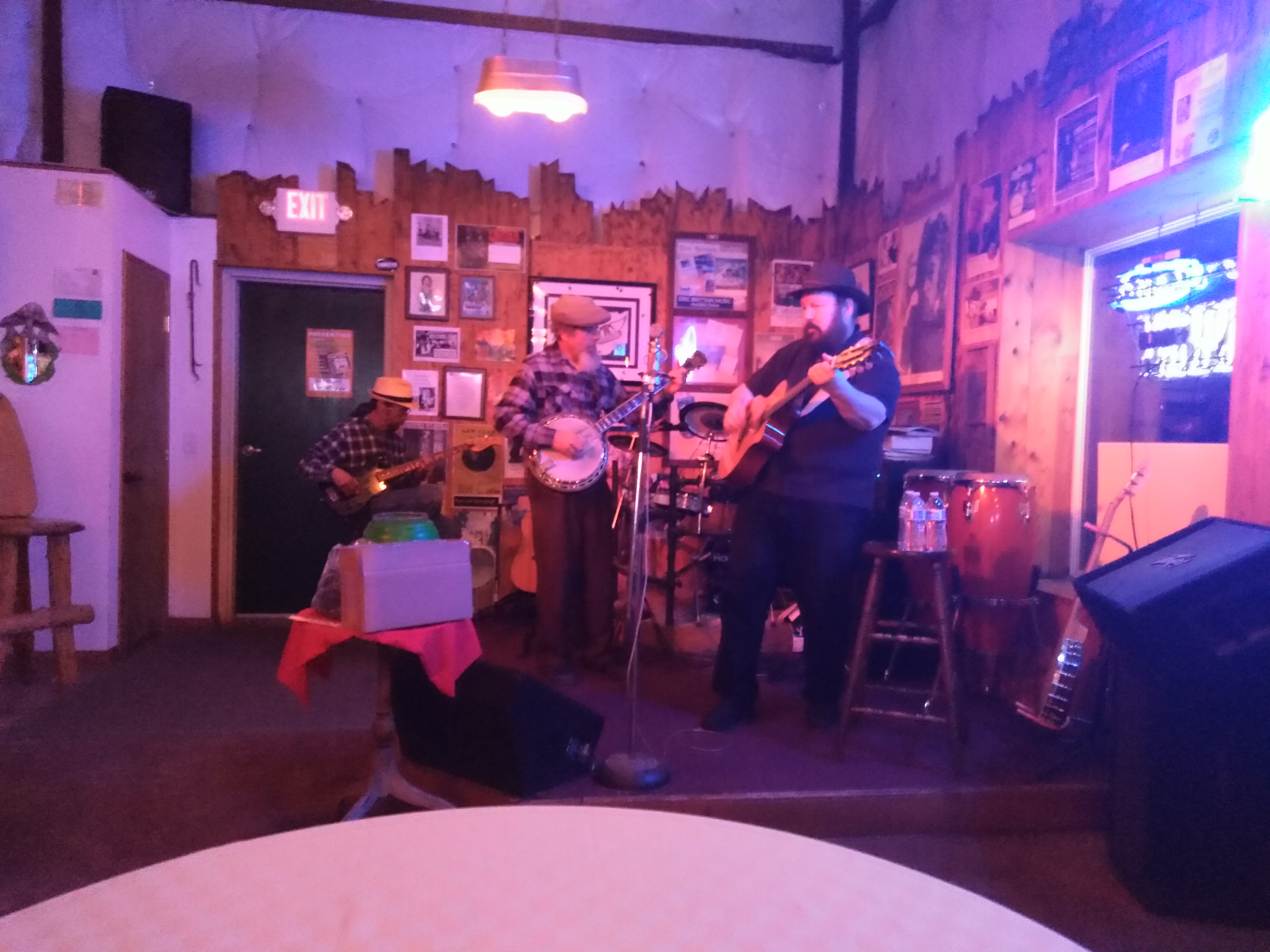 Tom (left) Dan (center) and a gentleman on his first tour at 60 yrs old. (Right) 
      I had no idea where I was going to stay while I was out there. Tom and Dan had offered me to camp on the property. And the land was gorgeous! I asked how long I could stay and Tom looked at me and said "stay as long as you want man...  just be cool. We don't want no trouble!" And with that I knew I was going to be alright. Dan and I had coffee every morning in the van. I ground fresh beans and pressed a great cup as I do every morning. I also put together peanut butter and banana sandwiches. Every morning we had great conversations about music, politics, and everything in between. Dan loves to play poker. And on my last morning there Dan said "I won big last night! I'm taking you to breakfast!" And that he did! We went to a place called Thomas Hill Organics and ate amazing crab cake sandwiches. 
      While performing through central California I also happened to make the papers a few times.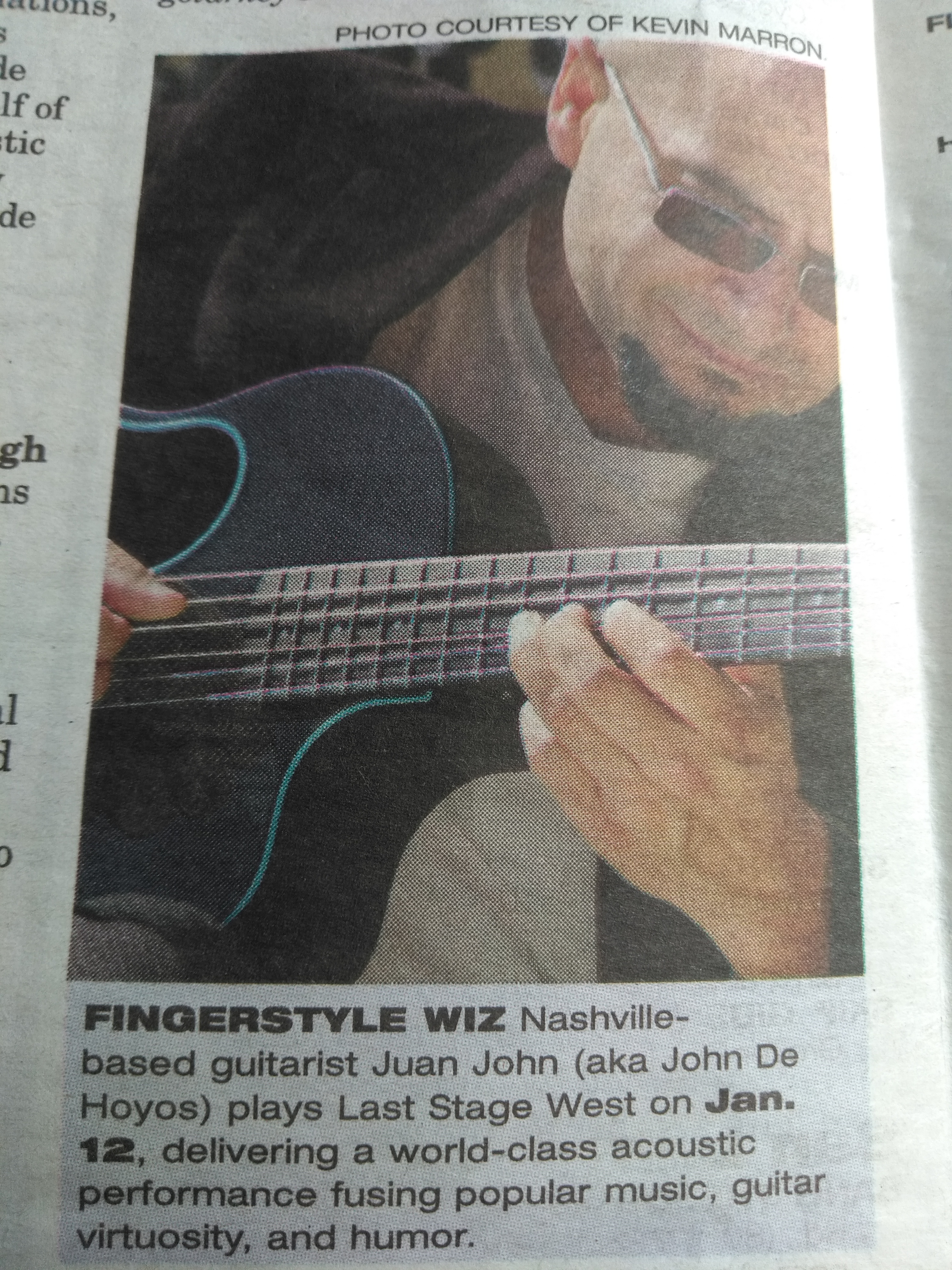 They wrote kind words in all the papers. 
      The second venue was amazing! It was a place called The Madonna Inn.  I was given a beautiful hotel room with an amazing view. The room was called the Cloud 9 Suite.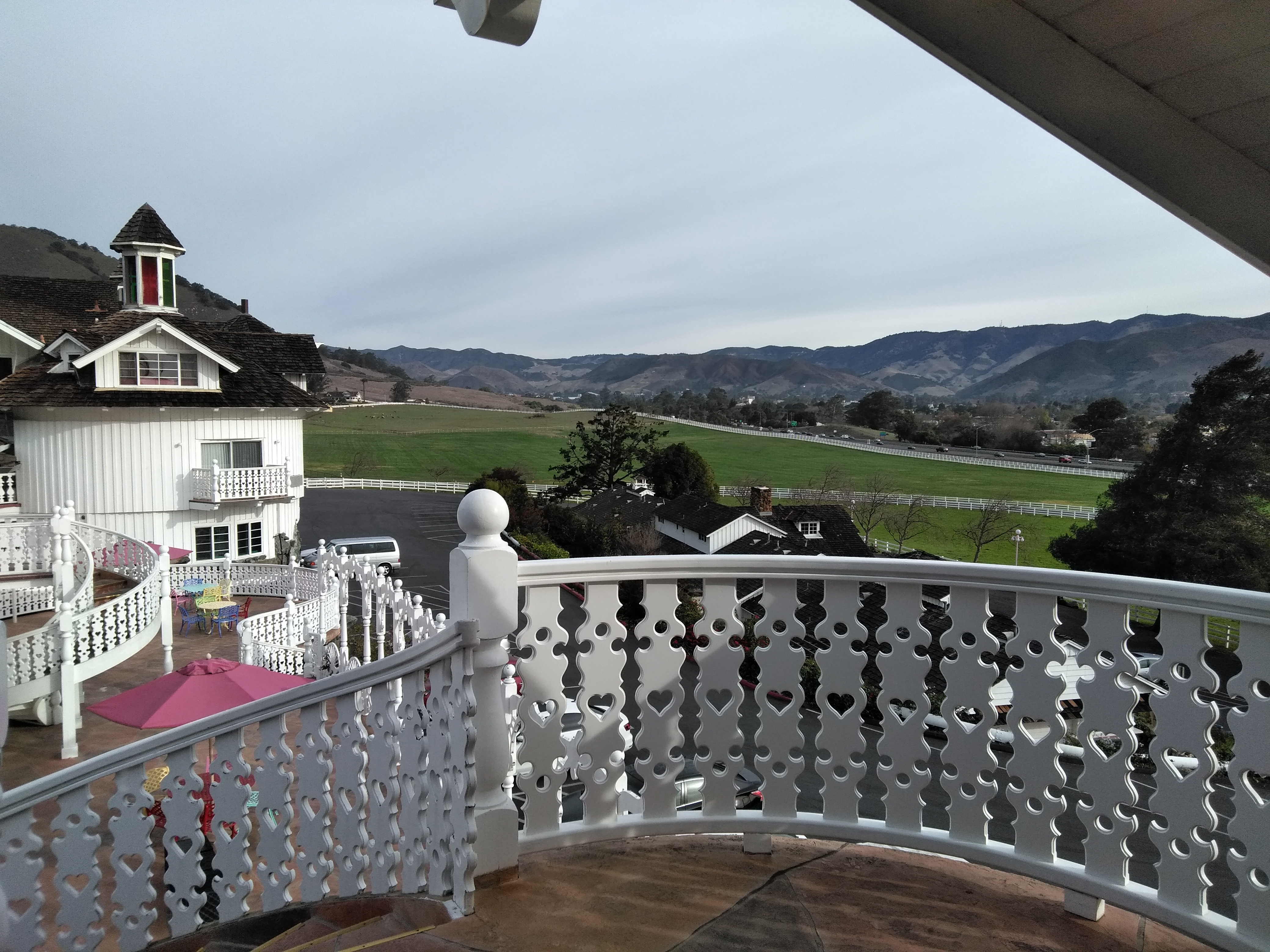 The room was increadible! I showered like 3 times, because when you live in a van those types of luxuries are hard to come by. The room also had heated toilet seats!!  I sat there so long my leggs went numb! The stage was pretty sweet as well. The week before I played... There was a well known female country artist from Nashville there. She played the same series. CAM Country is her name. It was cool hearing a familiar name.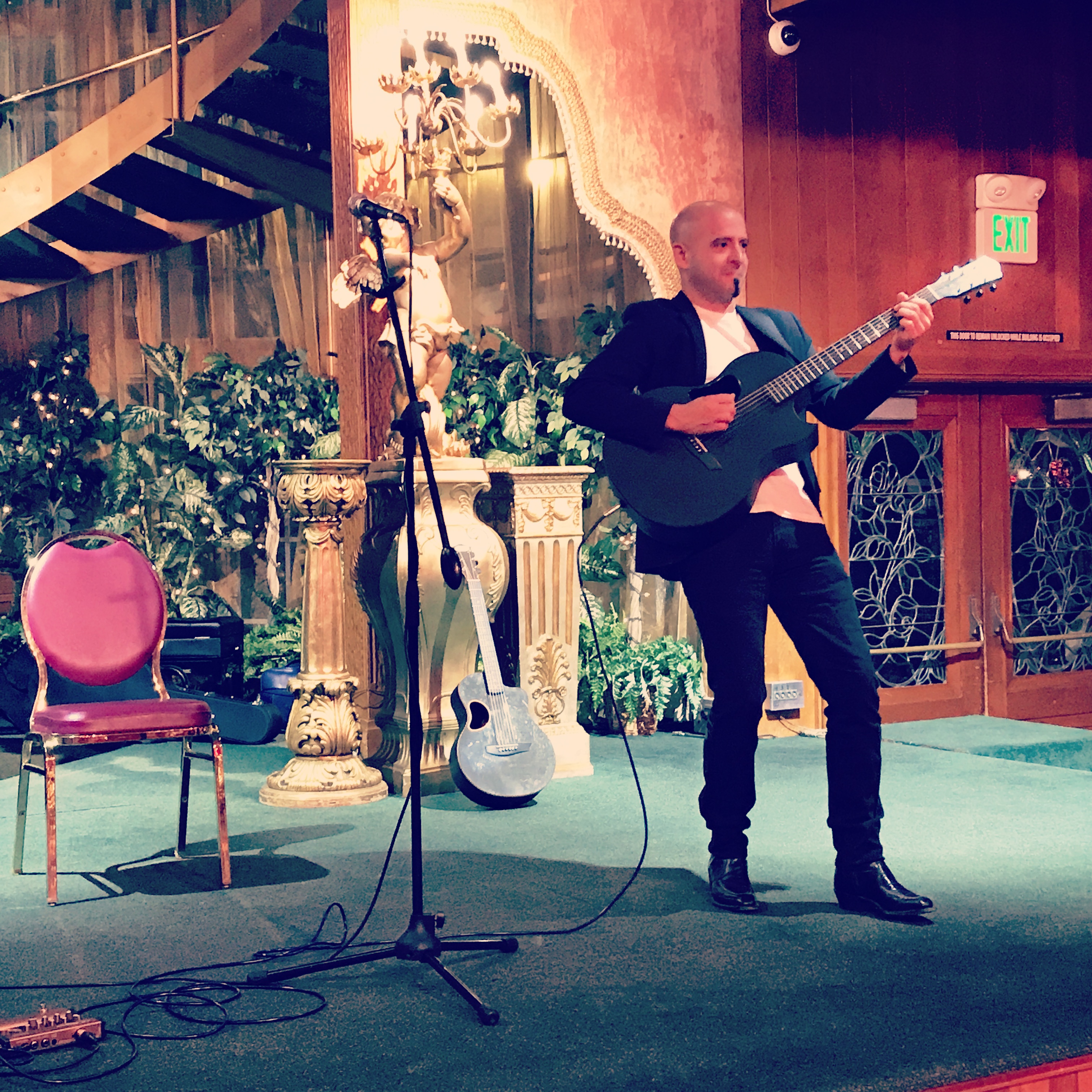 The room sounded amazing! And there where a couple friends from the L.R. Baggs family that came to watch that night.  When I got ready to head out the next morning I had problems with the van. It quit on me... twice. I found some great mechanics in the area that took care of business for me. APS Auto. I was being told that it was a major job by everyone else. But these guys took a look at the van put it on their machine to diagnose it and it turned out to be faulty spark plugs. Thank God! Van is running like a stud!
      The next show was in Pismo Beach. It was a classy joint called The Seaventure hotel and resort. I played 3 hours straight with the exception of one break. The sunset break. People come from all over the world to watch the sunset from that place. And the food... Well...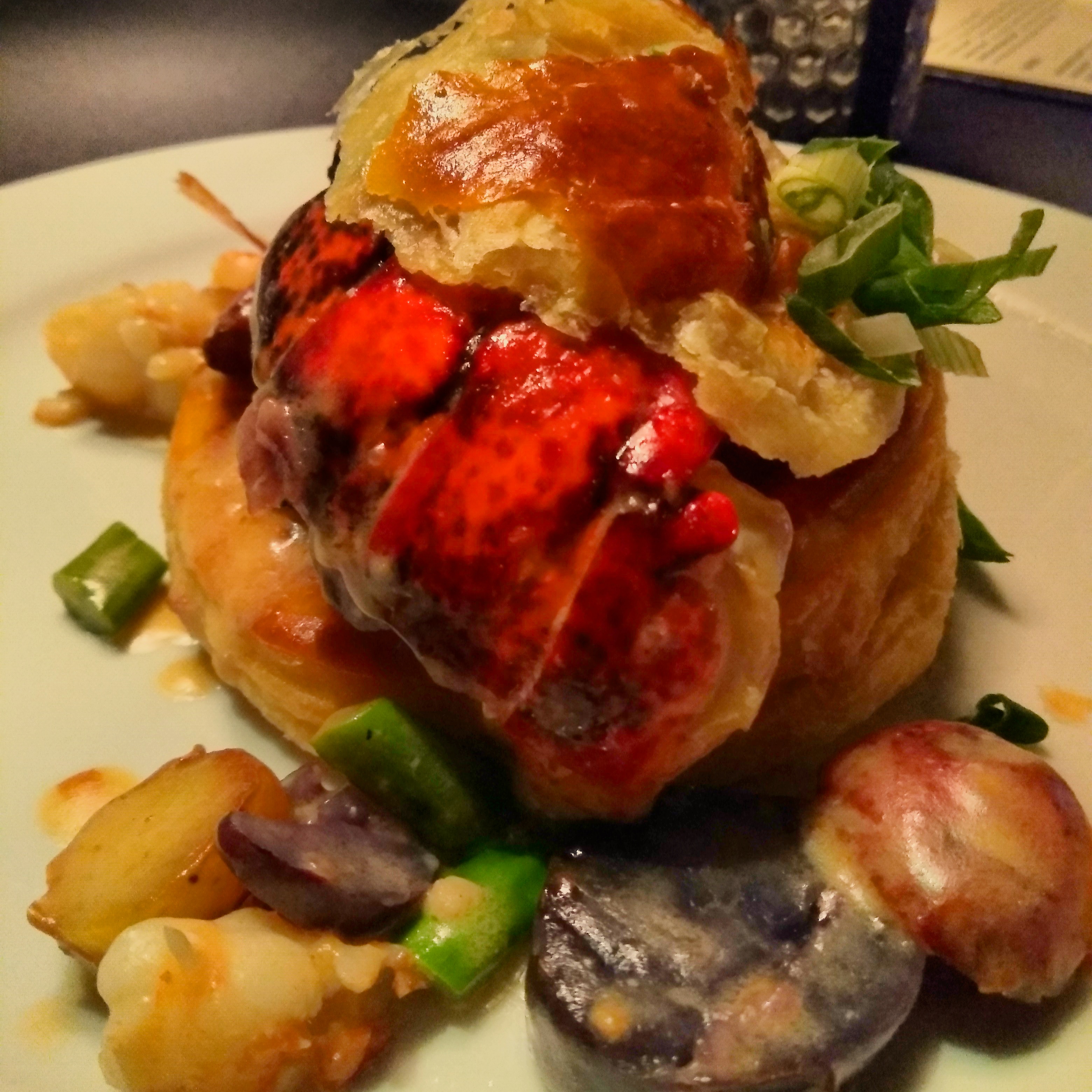 I couldn't pronounce the name of this dish, but it blew my mind! Lobster tail, scallops, and shrimp!! What!? Anyhow, it was a great meal that I didn't expect. 
      The final venue I performed at was a place called the Folktale winery. A beautiful place with a wonderful clientele. I especially enjoyed playing for three ladies in the front row. Candy, Christy, and Cricket. All the ladies where wonderfully animated and made me smile the entire time. While playing, a woman in the back of the room began dancing with her giant poodle. I can honestly say that the first time I've ever seen that. I wish I had a picture, but my hands where full at the time. If you know what I mean! 
      I've had such a great time in central California! I'm looking forward to returning sooner than later. I couldn't thank Everyone enough for the kindness and generosity. I'm glad to have made friends in this area. Especially friends like Banjer Dan, Tom, Amber, Tanner, and Toby. Thank you all from the bottom of my heart!